There is various Malaysia Solar company that have a good online resources to understand and seek for expert help and installations. We do not affiliate with them but it can be a good source for your easy reference.
Malaysian Official Authority Portal
Kementerian Tenaga Teknology Hijau dan Air
The Ministry of Energy, Green Technology and Water


The ministry of Energy, Green Technology and Water is responsible for sustainable energy, green technology, water supply, sewerage treatment, renewable energy, water purification, air purification, environmental remediation, solid waste management, eGain forecasting, energy conservation and sustainable engineering in Malaysia.
Contact:
Kementerian Tenaga, Teknologi Hijau dan Air (KeTTHA) – Headquarters
Blok E4/5, Kompleks Kerajaan Parcel E,
Pusat Pentadbiran Kerajaan Persekutuan,
62668 Putrajaya Malaysia.
Tel : 03-8000 8000
Faks : 03-8889 3712
---
Official SEDA Portal

Sustainable Energy Development Authority Malaysia
The Sustainable Energy Development Authority of Malaysia (SEDA Malaysia) is a statutory body formed under the Sustainable Energy Development Authority Act 2011 [Act 726].  The key role of SEDA is to administer and manage the implementation of the feed-in tariff mechanism which is mandated under the Renewable Energy Act 2011 [Act 725].
The website have all information about laws and regulation of renewable energy in Malaysia, Net metering and incentives on Feed in Tariff system of Malaysia.
Contact:
Sustainable Energy Development Authority Malaysia (head Quarters)
Galeria PjH,
Aras 9, Jalan P4W,
Persiaran Perdana, Presint 4,
62100 Putrajaya,
Malaysia.
Phone : +603-8870 5800
Fax : +603-8870 5900
Email: [email protected]
Sustainable Energy Development Authority Malaysia (Sabah Branch)
Likas Square Commercial Centre,
Unit 32, Level 1 ,
Lorong Likas Square,
Jalan Istiadat Likas,
88400 Kota Kinabalu, Sabah
Tel: +6088-252101/251462
Fax: +6088-250337
---
Suruhanjaya Tenaga


Malaysia Energy Commission
Suruhanjaya Tenaga (ST), a statutory body established under the Energy Commission Act 2001, is responsible for regulating the energy sector, specifically the electricity supply and piped gas supply industries in Peninsular Malaysia and Sabah.
Contact:
Energy Commission (Main Office)
No. 12, Jalan Tun Hussein
Precinct 2,
62100, Putrajaya.
Toll Free Number : 1-800-2222-78
Telephone : 03-8870 8500
Fax : 03-8888 8637
---
Tenaga National Berhad

The official website for Tenaga National Berhad. TNB is the country's largest electricity company, supplying electrical energy to the whole Peninsular Malaysia. TNB has taken on the role of 'Powering the Nation' and this forms the core of the Company's corporate responsibility  policy.
Contacts:
Tenaga Nasional Berhad (headquarters)
No 129, Jalan Bangsar 59200 Kuala Lumpur
Tel : +603 2296 5566
Fax : +603 2283 3686
---
Sabah Electricity


Sabah Electricity Sdn. Bhd. is an 80% owned subsidiary of Tenaga Nasional Berhad (TNB) and 20% by the State Government of Sabah. It is a vertically integrated utility providing reliable generation, transmission and distribution services in the state of Sabah and the Federal Territory Labuan.
---
Malaysian Meteorological Department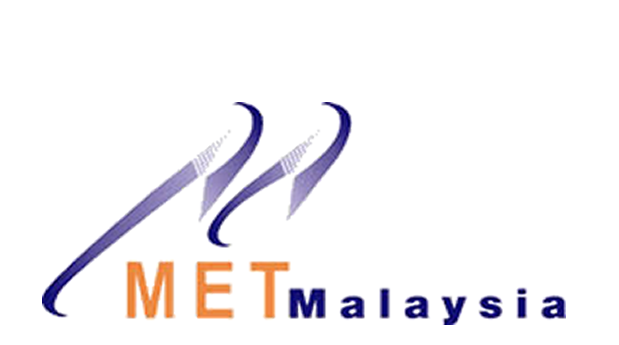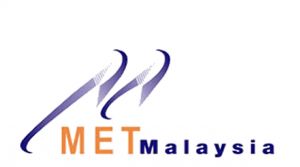 Don't forget that weather condition is important to decide on solar power generation. Visit the official Malaysian Meteorological Department for important weather information over the past few months and weather trend for past few years.

Contact:
Malaysian Meteorological Department.
Jalan Sultan 46667,
Petaling Jaya, Selangor.
Tel: (603) 79678000
Fax: (603) 79550964
---
Malaysian Online Solar PV market
SC Origin – SCO Mart – Asia Online Store
Solar Power Mart, Solar Light Mart, Farm Tech Mart


SC Origin is one of our favorite for DIY purchases of solar panels and solar equipment with easy interface to search and purchase. It offers delivery throughout Asia (Malaysia, Singapore, Indonesia, Thailand, Philippines etc. ) but offers free shipping to Malaysia.
SC Origin also have affiliates with 3 other online marketplace:
---
Solar PV information, quote and install
Solar Panel Malaysia
Get Paid through your own generated electricity !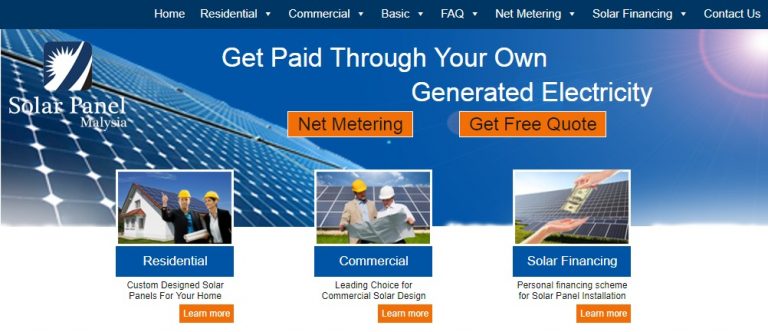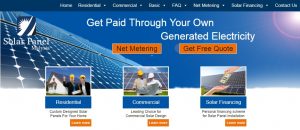 http://www.solarpanelmalaysia.com/
A very detailed website on feed in tariff of solar energy in Malaysia. Get free quote for your solar PV system here and expert advises. They offer services from design, consultation and installation of solar PV system, with many successful residential and commercial installation all over peninsular Malaysia.
Contact:
Solar Panel Malaysia
No 57, Jalan Telawi, Bangsar Bary,
59100 Kuala Lumpur,
Wilayah Perseketuan,
Malaysia
Tel: +6012-3877855 (Commercial/Solar Farm)
Tel: +6012-3177855 (Off Grid Solar)
Tel: +6014-6688551 (Residential Solar)
Email: [email protected]
---
NuSolar

Offers free consultations on solar installations and feed in tariff system to maximize income from solar panels. The aim is to provide all Malaysians the opportunity to become renewable energy producers.
Contact:
Nusolar Sdn Bhd
137, Jalan Jati Perak,
Taman Bukit, Jalan Bukit, Kajang,
43000 Kajang, Selangor D.E.,
Malaysia.
Tel: +603 8734 7220
Tel: +603 8734 7221
Email:[email protected]
---
 Pekat Teknologi Sdn Bhd

Pekat Teknologi Sdn Bhd was established as a competent solution provider specialising in the design, supply, distribution and installation of lightning protection, earthing system and surge protection technology and expanded its horizon and ventured into Photovoltaic Technology in 2006. Pekat had completed a significant number of prestigious and landmarked projects in the nation.
Contact:
Pekat Teknologi Sdn Bhd
5 & 6, Cubic Space,
No.6, Jalan Teknologi 3/4,
Taman Sains Selangor 1,
Kota Damansara,
47810 Petaling Jaya,
Selangor Darul Ehsan,
Malaysia.
Tel :+603-2300 8010
Fax :+603-9235 1077
Email:
Solar Division: [email protected]
---
Photon solar


Photon solar Power System Sdn Bhd is the equipment and solution provider for solar power system.
Photon solar provide solar energy consultation, design and supply of it's related products such as Solar Panels, Solar Inverters, Solar Controller, Batteries, roof mounting system as well as energy efficient lighting products and offers  installation, testing and commissioning for system which are supplied by us.
Contact:
Photon Solar Power System Sdn Bhd (1211673-D)
No. 18, Jalan Signature Industrial Park 1, Signature Industrial Park, 43500 Semenyih, Selangor
Tel: +603-67311356
Email: [email protected]
---
Solarvest

Solarvest offers a completely hassle-free way for you to save on your electricity bill while generating more income. They offer full-service innovative solar power solutions, so you get to reap the benefits of solar energy in a truly hassle-free manner – from beginning to end. They have many successful solar installation in both residential and commercial sector.
Contact:
Solarvest Energy Sdn Bhd (1194560-T)
A-30-05, Dataran 3 Dua, No 2, Jln 19/1,
46300 Petaling Jaya, Selangor Malaysia.
Tel: +603-7625 3211
Fax: +603-7625 3212
---
SOLARVIZ
Supercharges Property's Return

Is a website that comes with a detailed information about solar PV in a form of a book – Sun Power by Kelvin Heng. Learn more about tariffs and how to increase the value of your property via solar PV.
Contact:
SOLARVIZ
35-02, Jalan Harmonium 35/1,
Taman Desa Tebrau,
81100 Johor Bahru, Johor
Tel: +607 – 351 4540
Mobile: +6014 – 294 0635 Kelvin Heng, +6012 – 717 1129 Angie Ng
Email:[email protected]
---
Suria Infiniti
Building a greener home for a better living.

Suria Infiniti Sdn Bhd is a company that specializes in Renewable Energy (RE) and Energy Efficiency (EE) by means of solar PV and wind system, energy efficiency products, and sustainability reporting by establishing necessary framework as well as monitoring and reporting of carbon footprint.
Contact:
Suria Infiniti Sdn Bhd
S-001A, Season Square,
Jalan PJU10/3C,Damansara Damai,
47830 Petaling Jaya,Selangor
Tel: +603 6143-5899
Fax: +603 6140-6236
E-mail: [email protected]
---